Why Exhibit at ICBA LIVE 2022?
---
ICBA members look to you as an independent community banking partner for ways to streamline bank operations, increase productivity and profitability, and showcase the latest trends in today's rapidly evolving marketplace.
ICBA LIVE provides you the distinct opportunity to increase brand awareness by targeting your products and services to community bank leaders at the largest gathering of community bankers.
94% of attendees were satisfied with the quality of vendors at ICBA LIVE and 96% of attendees visited the expo hall more than once.  Learn more about who attends.
Over the course of two days, you will:
Build relationships with potential customers and key community bank decision-makers,

Get direct feedback on your products and services,

Offer personalized solutions in real-time, face-to-face (in San Antonio!),

Talk about industry challenges and how your solution meets the moment and community bank needs, and

Have fun—connecting with community bankers developing a strategy for the future—live and in-person!
Exhibitor Schedule
Dates and times are subject to change.
---
Sunday, Feb. 27
Registration Desk/Booth Install
10:00am – 5:00pm
---
Monday, Feb. 28
Registration Desk
8:30am – 6:00pm
Booth Install (Hard Stop)
8:30am – 11:30am
Expo Open
2:30pm – 6:00pm
Welcome Reception
4:00pm – 6:00pm
---
Tuesday, March 1
Registration
7:00am – 3:00pm
Expo Open, Breakfast Sampler
8:45am – 10:00am
Expo Open
12:15pm – 3:30pm
Lunch inside Exhibit Hall
12:15pm – 1:30pm
Prize Party Drawing in Expo
3:00pm
Exhibitor Teardown
3:30pm – 8:00pm
Booth assignments are made on a first-come, first-served basis. ICBA Corporate Members are given priority, followed by nonmember companies that have previously exhibited. Any remaining booths will be available to nonmember companies.
A deposit of $2,000 per booth or $10,000 per island is required within 10 business days of receiving your application to reserve your booth.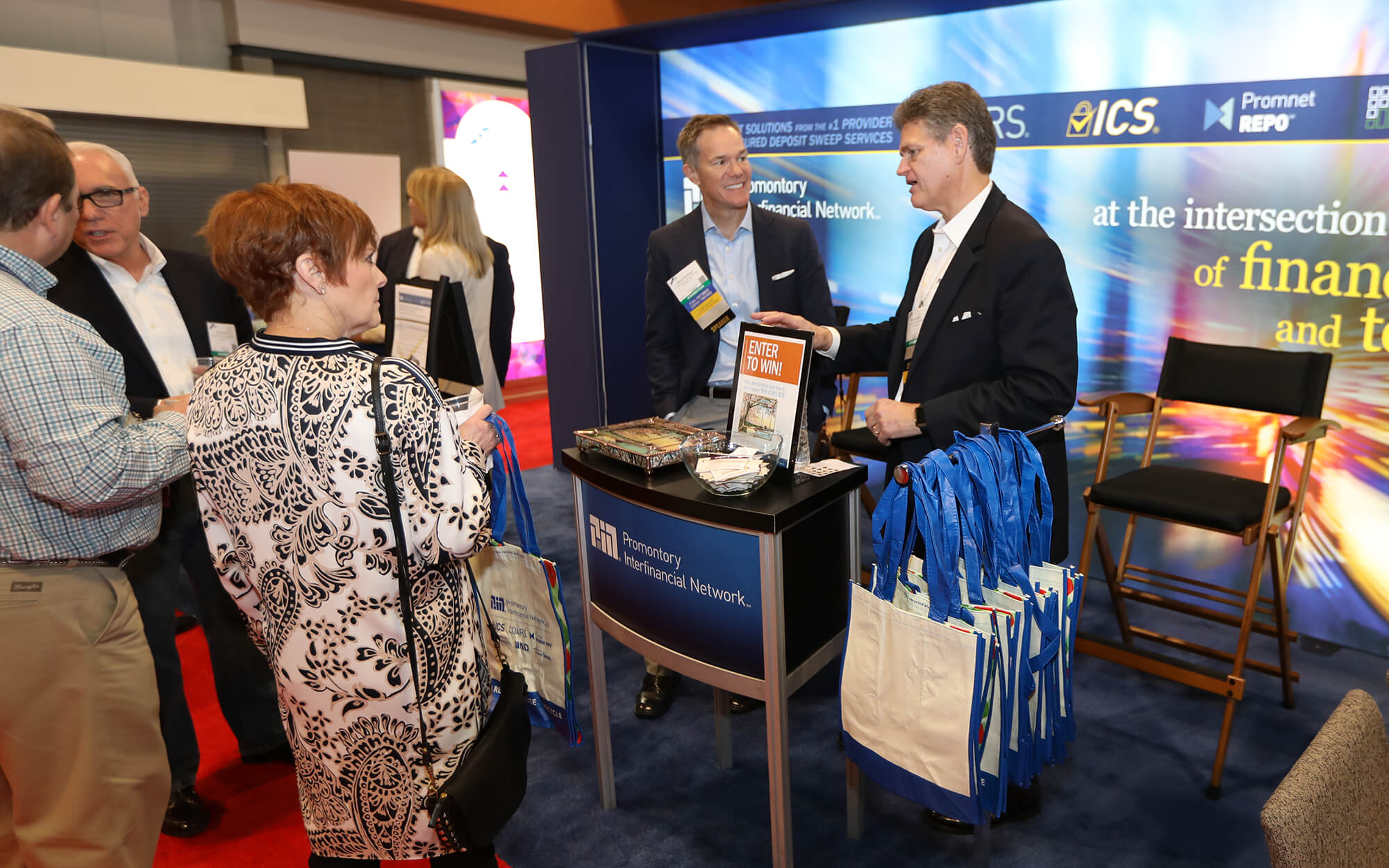 *Additional fees paid by nonmembers may be applied toward ICBA Corporate Membership.
**Per 10'x10' booth space
For more information about ICBA Corporate Membership contact Laura Norrell, Director, Vendor Relations at 202-821-4475.

| | 10' x 10' In-line | 10' x 10' End Cap | 20' x 20' Island |
| --- | --- | --- | --- |
| Corporate Members | $3,295 | $3,695 | $17,095 |
| Fintech and Professional Services Members | $3,995 | $4,395 | $18,695 |
| Non-Members* | $4,695 | $5,095 | $20,695 |
| No. of Full Registrations** | 1 | 1 | 4 |
| No. of Expo Hall Passes** | 3 | 3 | 12 |
What's Included in Your Booth Fee?
Complimentary registration to ICBA LIVE, one representative can attend all meal functions, workshops, and general sessions (excludes final evening event)*

Three expo hall passes for your sales staff*

Booth identification sign
One 8' high draped back wall and two 3' high drafted side dividers

One 6' table and two chairs

24-hour exhibit security

Mobile app listing, including company and contact information

Product/services description in online Expo Directory
Listing on exhibitor map

Pre-convention mailing list of registrants (sent after the early-bird deadline), excludes email, phone, and fax.

Priority booth selection at ICBA LIVE 2023 in Honolulu
Warning: Registration List Scam
If you are contacted by a company claiming they have the ICBA registration list for sale, please do not do business with them. ICBA does not share its registration list with outside vendors. ICBA will send out an attendee list to all exhibiting companies approximately three weeks before the convention. As a reminder, the list will not contain phone, fax, or email. This information would be captured by renting a scanner through Cvent.
Online Directory Description - Jan. 31, 2022
Certificate of Insurance* - Feb. 1, 2002


Learn more about a Certificate of Insurance and how to obtain one in the FAQs.

Exhibitor Booth Personnel Registration Forms - Feb. 11, 2022
Prize Drawing Form - Feb. 11, 2022
Sponsorship Opportunities
---
To learn more about sponsorship opportunities at ICBA LIVE 2022 in San Antonio contact:
Add the convention hashtags #ICBALIVE to your tweets to join the conversation online and learn what others are looking forward to and planning!
ICBA's annual convention is the largest gathering of community bankers! The educational opportunities at this national event keep bankers up to date on the latest trends and innovations affecting their bank.
Attendees are community bank decision makers—a majority are in the C-suite—and are responsible for guiding strategic initiatives to ensure their banks performance.
ICBA LIVE attendees go to the expo hall over and over—and stay a while. They are mostly decision-makers in the C-suite but are from all over the U.S. at banks of all sizes.
ICBA Corporate Members receive special exhibition and sponsorship perks, including discounted booth fees. To become a corporate member visit, icba.org/corporate or contact Laura Norrell.
The health and safety of all ICBA LIVE attendees is our top priority. We are taking appropriate safety measures and will follow all federal, state, and local guidelines to ensure the health and safety of all attending. Learn more.
10'x10' space

Listing & company description online & on mobile app

1 6' table with white draping

2 side chares

Pre-show mailing list (does not include email, phone, or fax)

3 hall passes

1 full registration
No. You must rent carpet for your booth if you do not have your own.
Because the exhibit is technically a construction zone during booth set-up, no child under 18 will be allowed in the exhibit hall during this time.
If you think you might be late getting to the show to set-up, please contact [email protected] to request an After-Hours Pass. A copy of this pass will be sent to you as well as given to security to allow you access to the hall.
We ask that exhibitors be in their booth at least fifteen (15) minutes prior to the hall opening. Your exhibitor badge will allow you access to the hall.
Your exhibitor badge will be necessary to get you into the hall. We will have security and they will be checking.
A Hall Pass provides access to Expo Only. A Full Registration provides access to the Expo, Learning Labs and General Sessions.
Yes. Registrations received after February 11 will be charged a $50 late fee. This includes onsite registrations.
Yes, there will be security both outside (checking badges) as well as inside the hall when the hall is closed. However, ICBA strongly recommends that all valuables (e.g., laptop computers, cellular phones, etc.) be removed from your booth at the conclusion of each exhibit session. ICBA and the Henry B. Gonzalez Convention Center are not responsible for lost, stolen or damaged items.
Note: Leaving valuable items in your booth is done so at your own risk.
There will be breakfast items on Monday morning, as well as box lunches on Monday afternoon. Exhibitors are welcome to take part, but we ask that bankers be allowed to go through the lines first.
Yes, however, we encourage all shipments be sent to GES' advance warehouse. If you choose to ship to the hotel, you will be responsible for getting your materials to your booth.
Exhibitors should arrange for outgoing shipments during the show or immediately after its close. GES will assist in the preparation of bills of lading. Where an exhibitor indicates choice of carrier for pickup, it is the exhibitor's responsibility to arrange with such carrier for said pickup service.
If the carrier does not pick up within the time limited for the removal of exhibitor's materials at the Exhibit Hall, GES reserves the right to forward such material by the shipping method of their choice or to remove said material to their warehouse for disposition, at an additional charge to the exhibitor in accordance with prevailing rates for the service performed.
Yes, a list of bankers attending the convention along with their mailing address will be emailed to you approximately three weeks prior to the convention for promotional purposes. Please note that due to contractual stipulations with our members, ICBA cannot provide the phone, fax, or email addresses.
A certificate of insurance is required by ICBA of all companies exhibiting at the ICBA Live Convention and Expo. The insured must be the name of the exhibiting company and both ICBA and the Henry B. Gonzalez Convention Center must be listed under "Description of Operations/Locations/Vehicle…"
Please forward your COI to [email protected].
Yes! There are many opportunities for your company to get great exposure at ICBA LIVE. To learn what sponsorship opportunities are available, please contact Matt Kusilek at 612-730-5940 or [email protected].
They are receptions hosted by various state associations. Attendance is by invitation only.